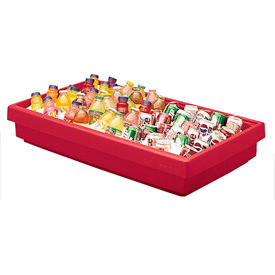 Table Top Buffet Bars
Colored Buffet Bars Are Used For Holding And Displaying Snacks And Cold Beverages.

Colored Buffet Bars are made of lightweight polyethylene that won't crack, dent, chip or break. Easily placed on table and counter tops. Corrosion resistant, leak-proof plastic is used for outdoor use and can easily store beverages and soft drinks on ice. Rolled top rim edging for extra strength. Measures 24"W x 7"H. Available in 41-13/16" and 67-1/2" in length. Colors are Black, Granite Green, Granite Gray, Green, Slate Blue, Navy Blue and Hot Red. NSF approved.