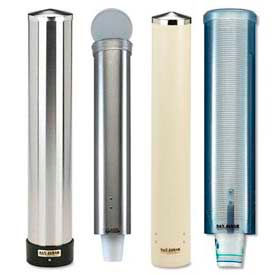 Gravtiy Feed Cup Dispensers
Gravity Feed Cup Dispensers Are Used For Use Around Coffee Machines Or Water Dispensers In Cafeterias, Waiting Rooms And More.

Gravity Feed Cup Dispensers are made of durable Polyethylene or Stainless Steel construction for long lasting use and dependability. Wall-mount style gravity-fed dispensers are designed to easily pull a disposable cup from the bottom for single use. Self-adjusting and top loading to eliminate cup damage. Various types and sizes available to hold 3, 5, 6, 8, 9, 10 or 12 oz. foam or paper cups. Available color finishes are Sand, Arctic Blue and Stainless Steel.