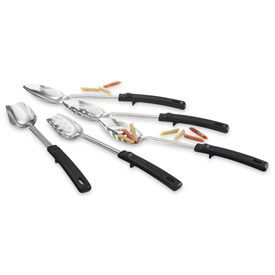 Stainless Steel Basting Spoons
Stainless Steel Basting Spoons Are Used Foodservice Utensils For Restaurants, Cooking Schools, Residential Kitchens And Other Preparation Applications.

Stainless Steel Basting Spoons are made of corrosion-resistant stainless steel for long lasting durability and dependability. Hanging hole at end of handle provides easy storage of spoons for user convenience. Perforated openings or slotted patterns available on some models for efficient draining. Available styles include Basting Fork, Basting Spoon, Heavy Duty Slotted Basting Spoon, Perforated Basting Spoon w/Hook, Serving Spoon, Slotted w/ Deep Grooved Handle, and Solid Spoon. Color finish is Stainless Steel. Dimensions and quantities vary per model.