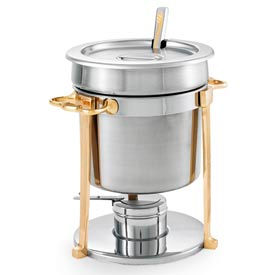 Soup and Gravy Chafers
Soup And Gravy Chafers Are Used For Catering, Buffet Service, Hospitals And Other Foodservice Applications.

Soup And Gravy Chafers are made of stainless steel for long lasting durability. Marmite water pans are designed to keep food warm during catering and buffet service for user convenience. Features ergonomic handles for ease of use. Brass trim available on some models. Folding chafers include water pan, fuel holders, dome cover and collapsible stand for space saving storage and transportation. Thermostatically-controlled propylene electric water pans feature built-in feet and holds pans up to 4" in depth with power consuption of 450 watts. Available styles include Contemporary Marmite, Folding Marmite, Panacea Marmite, Gravy/Sauce Chafer, Soup Chafer, and Soup Marmite. Capacities range from 2-1/2 to 11 quarts. Dimensions vary per model.