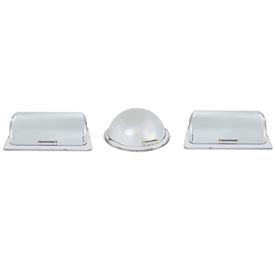 Drop-In Dripless Chafers
Vollrath® New York, New York® Drop-In Dripless Chafers Are Used For Use With Cut-Out Buffet Surfaces.

Drop-in dripless chafers are made from 18-gauge stainless steel with mirror finish. Clear coated brass trim. Channeled covers allow condensation to drip directly into water pan. Dripless water pan features extra wide rim to keep surface areas clean. Covers hold open in 90° or fully-open positions. Removable cover for easy cleaning. Available in 6 or 9 quart capacities. Silverplate Drop-In Chafers offer enhanced appearance and extra durability.