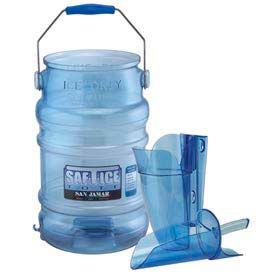 Ice Buckets and Scoops
Ice Buckets And Scoops Are Specifically Designed To Promote Safe Food Handling And Prevent Cross Contamination.

Ice Buckets and Scoops are made of durable plastic or polycarbonate materials to ensure long lasting performance in busy bars and restaurants. Saf-T-Ice Scoop Caddy or Saf-T-Scoop keep ice scoops within easy reach and safe from bacteria or dirt. Saf-T-Ice Tote transports ice from ice maker to dispenser bin without spills. Saf-T-Ice Bottle Guardian mounts inside ice bin safely chilling wine without contaminating the ice. Dimensions vary by model.