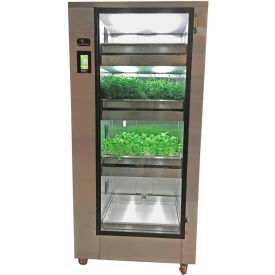 Micro Green & Herb Growing Cabinets
Micro Green and Herb Growing Cabinets Provide Stations For Herb and Botanical Growth.

Micro Green and Herb Growing Cabinets are suitable for growing herbs and microgreens. Units include an automated ecosystem that allow users to program lighting, watering, and monitor water quality for an ideal planting environment. Most models have programmable watering cycles and feature digital controls for on demand automated light and watering schedules as well as temperature and humidity control for each zone. Air circulation fan for each growing zone, along with rear venting allows for a gentle breeze while maintaining a stable, fresh environment. Automatic filtered pump/aerator irrigation system delivers water and nutrients to the plants. Units are constructed of welded and riveted stainless steel for lasting durability and performance. Available Zones are 1, 2, 4, 8, and 10 depending on the model. Flat sizes, dimensions, and additional specifications vary per model.