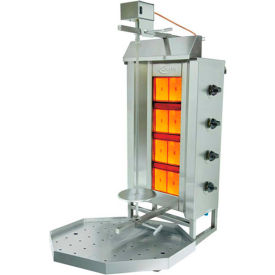 Axis Vertical Gas Broilers
Axis Vertical Broilers Include Orifices For Both Natural And LP Gas.

Vertical broilers are built from heavy-duty type 304 stainless steel with a durable unitized base. Electric motor is placed at the top of the unit away from fats to avoid fire hazards. Dual-rail system adjusts meat closer or farther from heat source. Rotates both clockwise and counterclockwise. Infrared burners feature individual controls. Includes removable drip trays. Auto* shut-off feature for safety. 120V. 3 Burner or 4 Burner models available. NSF® Certified. 1 Year Limited Warranty.