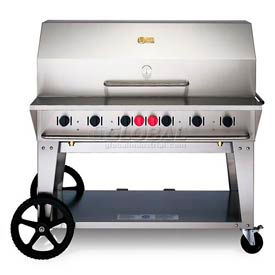 Crown Verity Propane Grills
Crown Verity Propane Grills Are Available For Various High Capacity, Rental Or Mobile Tailgating Applications.

Crown Verity Propane Grills are solidly manufactured for long lasting durability and dependability. Various type, size and grilling capacity units are available depending upon particular need or application. Charbroiler units are made of 18 gauge, type 304 stainless steel with a #4 corrosion resistant finish. 4, 5, 6, 8 or 10 stainless steel burners are placed every 5-3/4 inches to ensure even heat pattern. Roll dome helps to quickly preheat unit. Stainless steel water pans with drain ports help ease cleaning and prevent grease fires. Stainless steel tank brackets secure propane tanks (not included) in position. Include gas hoses and pressure regulators. Move easily on 2 locking swivel casters and two 14 inch diameter wheels. Available in various dimensional sizes and 64,500 to 159,000 BTU heating capacities. Rental Mobile Grills are designed for use with large scale events. Handles on each end and double crash bars protect the valves and knobs from being damaged. Double gas connection. Available in various sizes with 6 or 8 burners and 99,000 or 129,000 BTU heating capacities. Towable Grill Tailgate Units are designed to be hitched to vehicle for use in tailgating or other off-site applications. 6 burner, 99,000 BTU heating capacity units are available with propane tanks included or with buit-in compartments to allow storage of coolers and supplies for tailgating needs.