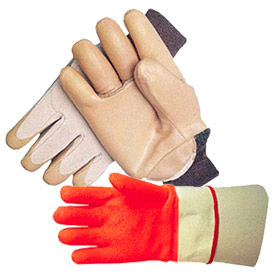 Kitchen Specialty Gloves
Kitchen Specialty Gloves Are Used For Commercial Or Residential Kitchen Applications.

Kitchen Specialty Gloves are made of Neoprene rubber for long lasting durability. Heat and liquid resistance provide versatile use. Protects hands to 350° constant temperature for added safety. One piece seamless construction. One size fits all or 18 inch sleeve. Available in Freezer Glove, Frozen Food Glove, Hot Mill Knit Glove, Rotissi Glove, San Jamar Lisle Inspector or Waiter Gloves, San Jamar Rotissi Glove and Fryer Oven Mitt. Available colors are Tan, Orange, Cream, Black or White. USDA accepted.