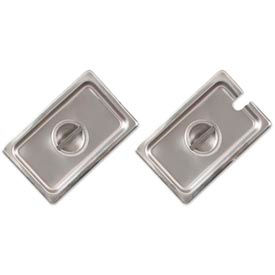 Steam Table Pan Covers
Steam Table Pan Covers Are Used For In Cafeterias, Restaurants, Buffets and Banquet Halls and More.

Steam Table Pan Covers are made of stainless steel for long lasting durability and dependability. Variety of styles, sizes and brands available to efficiently cover steam table pans. Flat covers include handles for easy lifting. Notched cover design allows for easy storage of serving utensils. Dimensions and quantities vary per type and brand. Sizes are 1/9, 1/6, 1/4, 1/3, 2/3, Full Size, Half Size and Is-25, Is-40/Is-70/Is-110.