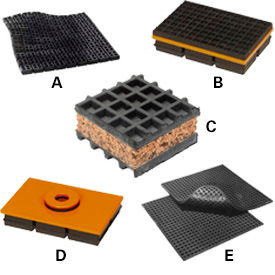 Vibration Isolation Pads
Vibration Isolators Dampen Vibration From Compressors, Blowers, AC units and more.

Vibration isolation pads easily cut to fit with box cutter or shears and prevent equipment from moving. Use indoors or out. Available in 3/8" or 3/4" for twice the isolation. Choose Natural Rubber or Neoprene shock isolation pads for grease resistance.

Neoprene & Cork Vibration Pads - Cork core is faced on both sides with waffle-textured neoprene for indoor vibration control. Requires no bolting or cementing; traction keeps pads in place. 1" thick. Can be cut with table saw.