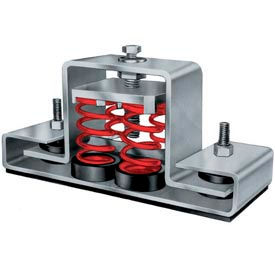 Seismic And Wind Vibration Isolators
Seismic And Wind Vibration Isolators Are Used For Application In Seismic Or Windblown Areas.

Vibration isolators are made to withstand seismic or weather-exposed vibration in a variety of industrial applications. Neoprene acoustical cup and vertical limit stops on vibration isolators provide reliable cushioning plus corrosion protection. Adjustment bolt turns counterclockwise to load spring and maintain free and operating height. Bolt position can be reversed for anchoring to floor. Vibration isolators measure 8-3/4 L x 2-1/2 W. Available in a variety of colors.