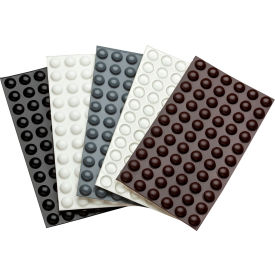 Sound Dampening Bumper Feet
Cone-shaped rubber spacers have a rounded point at the tip. For use in applications that require extra height and space. Commonly used in automotive applications as rattle reducers.

Hemispherical bumper feet are commonly used for sound dampening applications. The domed shaped bumpers work best for softening cabinet doors from slamming, reducing noise, and extending the life of the cabinets. Versatile round bumpers are found on the bottom of laptop computers to prevent sliding on any surface and smaller bumper profiles are used on the inside to protect the laptop screen and keyboard when closing it. Small round bumpers are used on standoffs for glass shelves.

Cylindrical (Special Soft Durometer) Bumpers are designed to absorb energy from closing cabinet doors and drawers. These parts have been specifically engineered to provide the quietest close available for any cabinet door. The Soft Durometer Bumpers use a device called "Flexible Softness" which absorbs the physical force of any impact by more than half.