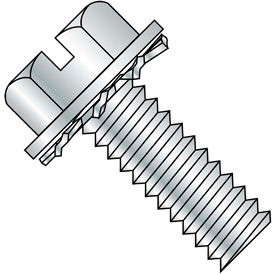 Slotted Hex Washer Sems
Slotted Hex Washer Sems Screws Are Used For Sturdy Fastening Of Materials In Residential And Industrial Workshop Applications.

Slotted Hex Washer Sems Screws are made of solid steel with sliver colored zinc finishes for corrosion protection and long lasting durability and dependability. Slotted hex head is used for with slotted screw drivers as well as wrench or pneumatic fasteners. All Sems screws come pre-assembled with flat and external tooth washers attached to the head, providing improved protection for the mating surface as well as increased connection strength. Fully threaded for secure fit. Available in 1/4-20, 5-1/6-18, 10-24, 12-24, 6-32, 8-32, 10-32 and 4-40 sizes and 1/4, 3/8, 1/2, 5/8, 3/4, 1 and 1-1/4 inch lengths. Sold in various package quantities.