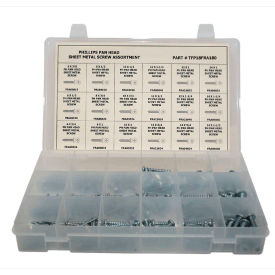 Sheet Metal Screw Kits
Sheet Metal Screw Kits Provide an Assortment of Sheet Metal Screws For Construction and Repair Applications.

Sheet Metal Screw Kits include organizational trays with compartments and covers. Sheet metal screws have sharp threads that cut into sheet metal, plastic, wood and more. Screw kits range in size from 244 – 1275 pieces depending on the model. Refill kits sold separately. Dimensions, finishes, and additional specifications vary per model.