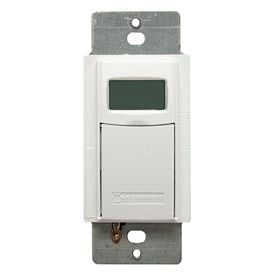 EI600 Series Decorator Electronic 7-Day Astro Time Switches
NSI TORK® SS703ZA 7 Day In-Wall, In-Line, Astro Timer, Light AlmondAPPLICATIONS FOR CONTROLLING:
Indoor/Outdoor lighting including fluorescent, incandescent PAR lamps and HID.
Ventilating fans in ceilings, bathrooms, windows and whole house types.
Lamps, radio, or TV to give the home a "lived-in" look while away.
Appliances such as space heaters, coffee makers and entertainment equipment.
FEATURES:
6 daily ON and OFF settings, 42 per week.
Automatic DST feature
Set once and never set it again. Follows seasonal changes in sunrise and sunset times.
Can be used as a 24 hour or 7 day time switch
True in line timer - no minimum load required
One timer switches 120/240/277VAC, 60Hz.
Matching protective cover over pushbuttons.
Manual ON/OFF capability
To-the-minute digital accuracy
Display continuously shows time of day, timer mode, and load status
Battery backup (battery is supplied)
For single pole and 3 way applications up to 100 feet
Uses standard decorator wallplate in single or multigang installations