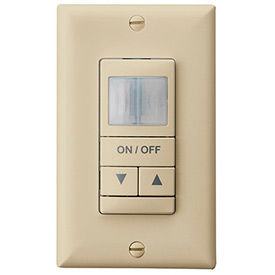 Lithonia Lighting® Wall Switch Occupancy Sensors
Lithonia Lighting® Wall Switch Occupancy Sensors Are Used For Applications Including Commercial, Medical, Corporate And More.

Lithonia Lighting® wall switch occupancy sensors are made of plastic for long lasting durability and corrosion resistance. Passive Dual Technology (PDT) uses motion sensors to track personnel movement and microphonics to decipher occupancy sounds. Automatic Gain Control (AGC) adapts sensor to environment by filtering out background noise and detecting only human activity. Programmable time delay automatically turns off lights once room is vacated. Includes operating modes such as Reduced Turn On Sensitivity and Switch Disable that are fully programmable using primary push-button. Package quantity is 1. Colors are Ivory and White. UL and CUL listed. Dimensions vary per model.