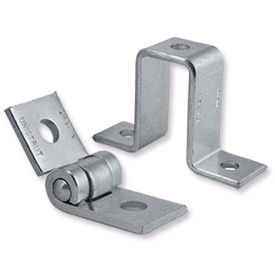 Struts - 1-5/8" General Fittings
1-5/8 in. General Fittings are used for Unistrut® Framing System Installation Applications.

1-5/8" General Fittings are constructed with an electro-galvanized zinc or Perma-Green® III finish for lasting durability. Fittings are punch-press made and conform to ASTM specifications. Hardware and other supports and accessories are high quality system components designed to work with Unistrut® framing system. Electro-galvanized zinc deposited on part in electroplating process.Available styles include "U" and "Z" Shape, 30-/40-/and 90-degree fitting, 90-degree Gusseted Fitting, Adjustable Hinge, Cross Plate, Flat Plate, Splice Plate, Square Washer, Swivel Plate Fitting Tee Plate, and Wing Shape. Available with 1-12 holes. Lengths range from 4" to 7-1/4". Note: All of these products are in stock and ship in 2 days. Products are sold in smaller quantities than competitors and are priced competitively. All of our struts and accessories conform to the ASTM standard.