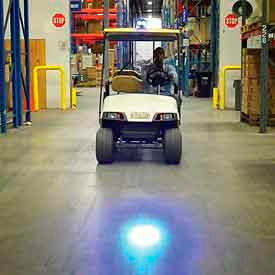 LED Personnel Vehicle Pedestrian Safety Warning Light
Promote Pedestrian Safety!

When the LED Safety Warning Light assembly is mounted to a personnel carrier or other moving vehicle, it projects bright blue spot beam pattern on the floor surface. Since multiple lights can be mounted onto a single vehicle, the warning light spots can be seen behind or in front. The bright light spot on the floor is clearly visible to pedestrians and vehicles in the area, regardless of the ambient noise, alerting them to the nearby presence of the vehicle. Traditional audio back up alarms can blend into ambient noise in the building and pedestrians can become immune to the audio warning.

Twin 5 watt solid-state, shock-resistant, Cree LED (Light Emitting Diode) lights yielding 600 lumens are enclosed in an IP68 rated housing with a UV-resistant PMMA polycarbonate lens. The LED safety light uses the vehicle electrical power to operate and can be installed on the front and/or rear of the vehicle (configured for 10 Volt to 80 Volt DC input range, with reverse voltage protection). The 50,000 hour service life LED's are mounted in a rugged die-cast aluminum housing for long life. Working environment temperature is -40 to 80°. Universal stainless steel swivel mounting bracket allows for easy installation.