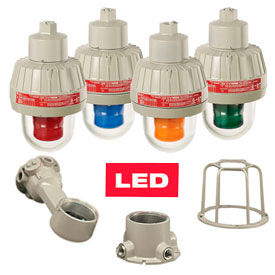 Explosion-Proof LED Warning Lights
Explosion-Proof LED Warning Lights Are Used In Oil Rigs, Mines, Refineries And Chemical Plants.

Explosion-Proof LED Warning Lights are constructed with a powder epoxy finish applied over copper-free aluminum housing and 316 grade stainless steel exposed hardware for long lasting durability. Made with a high-intensity LED array designed to meet needs of industrial users. Configurable to steady burning state or flashing mode. Low in-rush circuitry design provides greater compatibility with factory automation systems. UL listed. Colors are Amber, Blue, Green, Red, Red/Amber, Red/Amber/Green, Red/Amber/Green/Blue and Red/Amber/Green/Blue/Clear-White. . Voltages are 120-240VAC, ACDC 24V, AC120V, ACDC 190V-250V and 24. Operating currents vary.