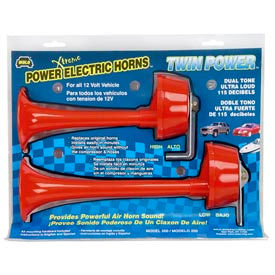 Vehicular Electric Horns
Electric Horns Are Designed For Vehicles To Produce Different Loud Sounds.

Electric horns are easy-to-install and can fit in various vehicles. Choose from different sound types available. Animal House™ attracts immediate attention with 69 different sounds to choose from 9 animals, 10 sirens, and 50 musical songs. Fun Horn™ produces a distinctive OOOGAH sound for 12-volt vehicles. Juke Box™ plays any of the 34 pre-programmed songs with just 1 touch. Power Play® is a portable amplifier system that can blast your favorite songs through any music player. The Enforcer™ blasts 20 watts of 3 different emergency sirens. Decibels range from 90-118.