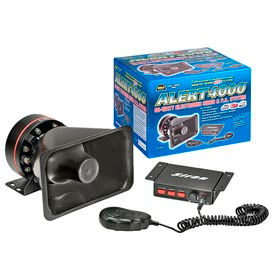 Audible Sirens & PA Systems
Audible Sirens Inform Others Of An Emergency Situation Or Provide A Public Announce System.

Sirens can be installed on emergency vehicles including police cars, ambulances, and fire trucks. Alert 4000™ Siren Speaker System is a compact 12-volt, 50-watt electronic siren with 3 different functional sounds. It also has a PA system with 100 RMS speaker, plug-in microphone, metal mounting bracket, and mounting hardware. Alert™ Speaker is a 100-watt RMS speaker that works with most electronic sirens. Comes with mounting hardware. Compact 100-Watt Speaker is a small, high performance speaker designed for versatile mounting and made of corrosion resistant metal. The Deputy™ is a, 12-volt, 100-watt electronic siren. Features a PA system with noise-canceling microphone.