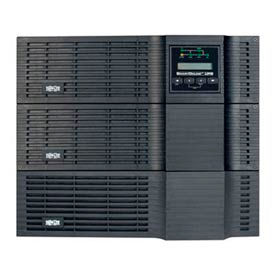 Tripp Lite SmartOnline™ Single Phase UPS Systems
Tripp Lite SmartOnline™ Single Phase UPS Systems Are Used Power Protection For Mission-Critical Servers.

UPS systems feature double-conversion technology to continually convert incoming AC power into filtered DC power, and then resynthesizes it back into AC power with a pure sine wave. Zero transfer time allows networks to run during short blackouts and provides ample time for computers to shut down safely during longer ones. UPS systems stop damaging surges and filter disruptive line noise. Systems can be installed on server racks and towers or even in stacking applications. Automatic Internal bypass system. Features a front panel LED display. All models feature connectors that accept external battery packs for additional runtime. Hot-Swappable Modular Systems feature maintenance bypass, allowing them to be removed for maintenance while continuously passing through utility power to connected equipment. Rack space sizes range from 2U up to 8U. UL® listed.