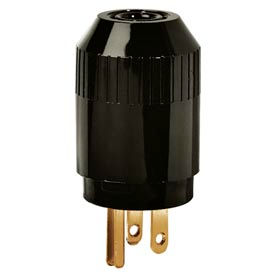 Bryant® Tech-Spec® Plugs And Connectors
Bryant® Tech-Spec® Plugs and Connectors Prevent Moisture and Contaminants From Entering The Wire Chamber in Commercial or Industrial Environments.

Connectors are made using impact and chemical resistant double walled nylon. Internal self-centering Triple-Gripper™ cord grip with radius teeth design for safety. Dust seal surrounds cord to help prevent moisture and contaminants from entering wiring chamber. Captive terminal screws are backed out and ready for wiring. Wide-rib, non-slip hand grip with industrial matte finish. Transparent terminal cover features a see-through window for proper wire terminations. UL listed. CSA certified.