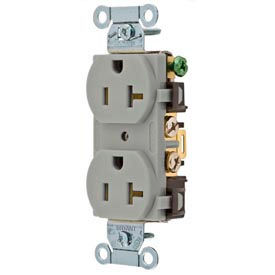 Commercial Grade Duplex Receptacles - 125v
Featuring Bryant® and Leviton® Products

Commercial Grade Duplex Receptacles Are Great For Home And Office Environments.

Rounded face, wraparound design is molded of high-impact, chemical resistant nylon. Heavy duty wrap-around steel yoke is locked in for superior strength. Includes terminal screws that accept up to #10 wire. Approved for CU wire only. Easily accessible break-off tab for two-circuit wiring. Self-grounding strap for quick installation. UL listed. CSA certified.