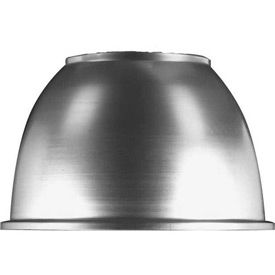 Reflectors For Multi-Bay Industrial Lighting Fixtures
Choose The Reflector That Meets Your Needs.

Reflectors can be used on Multi-bay Industrial Lighting Fixtures (sold separately). Prismatic Reflectors are made of injection molded high impact, UV stabilized acrylic to provide high vertical footcandle yielding and a high spacing ratio. Aluminum Reflectors are made of rigid, heavy-gauge diffuse anodized aluminum for use with clear lamps. Reflector locks on adjustable straps for field adjustment of optics from wide to narrow distribution. Reflector positioning is labeled on outside of housing.