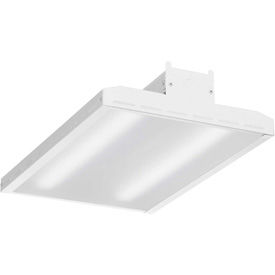 Linear LED Bay Lighting
Linear LED Bay Lighting Provides Ambient Lighting for Offices, Showrooms, Sales Floors, and more.

Linear LED bay lighting is made of high quality materials for lasting durability. Lighting is cost effective, energy efficient, and provides up to 100,000 average hours of life. Rigid assembly is designed to resist twisting and bowing. Accommodates high or low bay system replacement. Color temperatures are 4000, 5000, and 5600. Lumens range from 9950 to 58000. Wattages range from 77 to 425. Lengths range from 23.72" to 50". Average life hours are 25000, 50000, 60000, and 100000. Other dimensions vary per model.