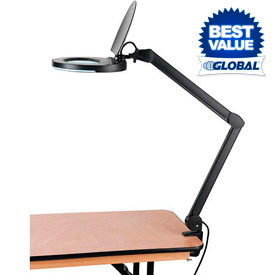 2-in-1 Magnifying Lamps
2-in-1 Magnifying Lamps Enhance Productivity In Poorly Lit Work Areas Or For Use In Detailed Assembly Operations.

2-in-1 magnifying lamps attach to desk tops to provide a convenient light source and magnifying lens. Choose from a variety of desk lamps that provide bright light which enhances productivity. Desk lamps include a swing arm that places light where it's needed and swings out of the way when not in use. Magnifying styles mount to work surfaces with a clamp. Magnifying lights are available with Fluorescent, LED, or Halogen bulbs and varying degrees of magnification.