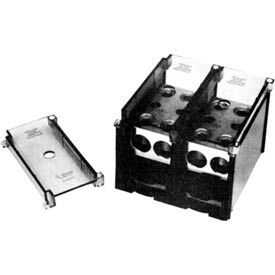 Power Distribution Blocks Safety Cover
Ferraz Shawmut Safety Cover Kits Are Designed For Splicing Cables, Splitting Primary Power Or Providing A Fixed Junction Tap-Off Point.

Ferraz Shawmut Safety Cover Kits are made with tin-plated connectors for optimal conductivity. Features glass-filled polycarbonate insulators that are virtually unbreakable for added safety and protection. Includes adder poles that lock together to form as many poles as required for increased versatility. Accommodates aluminum of copper wiring for ease of use. Styles are Mini, Intermediate or Large. UL recognized. Most sizes are CSA accepted. See-through safety covers are also available.