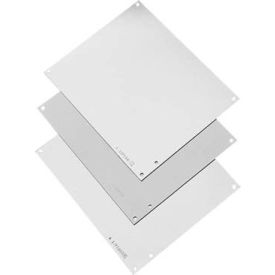 Hoffman Wall-Mounted Panels
Hoffman Wall-Mounted Panels Securely Attach To Junction Boxes To Keep Electrical Components Protected From Tampering And Exposure.

Hoffman Wall-Mounted Panels are constructed of durable 12 or 14 gauge steel with white polyester powder paint with a conductive, corrosion-resistant finish for long lasting protection and reliability. Easy-to-open, continuous hinge enclosures feature external screw-down clamps that are quick and easy to operate for secure closure. Panel mounting hardware is furnished with all enclosures which accept these panels. Dimensions vary per model.