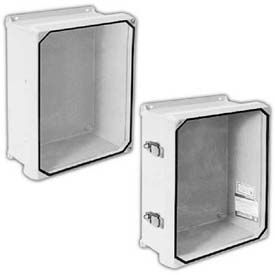 Waterproof/Corrosion Electrical Enclosures with Window
Waterproof/Corrosion Electrical Enclosures with Window Are Designed For Use As Electrical Junction Boxes Or Instrumentation Enclosures In Highly Corrosive Environments.

Waterproof/Corrosion Electrical Enclosures with Window are constructed with a corrosion resistant hot compression molded fiberglass reinforced polyester base/cover and a transparent Lexan window for long lasting durability. CVJ Series available in variety of sizes and configurations. Contain no halogens. Includes one or two stainless steel twist latches to secure one side of cover to base. Two non-metallic hinges secure other side. Self-tapping screws connect hinges to cover and base. Window enclosures provide easy visual inspection of interior components. Includes UL/CSA labels and 4 threaded inserts for mounting plate. Cover screw holes in corners outside of gasketed area. Continuous gaskets made of polyurethane foam guarantee optimal integrity. Works with conventional tools such as drills, mills, saws, and punches. Withstands continuous temperatures. Use for Indoor and outdoor applications including oil refineries, chemical processing plants, waste water treatment facilities, marine installations, electroplating plants, agricultural environments and food or animal processing plants. Provides optimum security to operators and equipment featuring double insulation and protection degree IP66-11 according to IEC 529. Maintenance free and corrosion resistant. UL listed as per UL Standard 508 type 3, 3R, 4, 4X, 12 and 13. CSA approved as per C22.2 No. 94. Available in a variety of sizes, closures and specifications. Color is Light Gray.