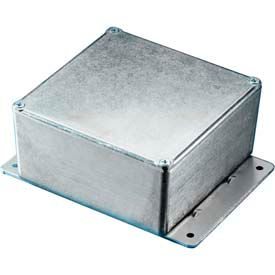 Econoboxes with Mounting Bracket
Bud Econoboxes With Mounting Bracket Are Used For Wall Or Panel Mounting.

Bud Econoboxes With Mounting Bracket are made of ADC-12 aluminum alloy for efficient screening properties and long lasting durability. Select from fifteen box sizes, each with close fitting flanged cover screw fastened to bosses in body. Lightweight, easy to machine enclosures have a number of uses: instrument and meter cases, filter networks, junction bosses, switching and many other applications requiring a small box. In addition, they're used for concealed or other interior use where a safety closure is necessary. Thicknesses are .06" and .09" Colors are Black and Natural Dimensions vary.