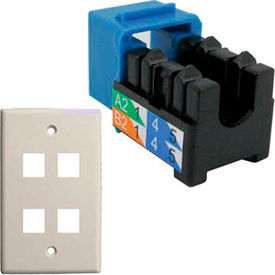 Wall Plates, Quick Connects and Wall Controllers
Wall Plates, Outlet Strips, Gang Junction Boxes, Keystone Jacks and Accessories Are Designed to Configure Communication Interfaces For Audio, Video and Security Applications.

Wall plates, quick connects and wall controllers accommodate electrical and lighting. Wall Plates, outlet strips and gang junction boxes can be custom configured with keystone jacks and connectors to meet data and audio-visual connection needs. Data networking solutions include devices to support HDMI, S-video, RJ45, CAT5 and CAT6 connections for commercial or residential networking. Connection type, color, and other dimensions vary per model. Additional specifications vary per model.