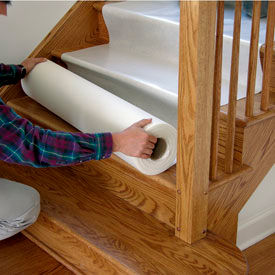 Finished Floor Guard®
Finished Floor Guard® Is Used For Hardwood Stairs, Floors, Tile, Granite, Marble And Countertops.

Finished Floor Guard® is made of foam/polyethylene for long lasting dependability. Provides superior stair protection. Durable, breathable and reusable with no tape required. Allows up to 100 days of protection and stays in place to prevent scratches, paint spills and foot traffic. Used for high traffic areas and high-risk floor surfaces that need extra protection. Reverse wound for easy installation. 100' length per roll. Available in 24", 36" and 48" lengths.