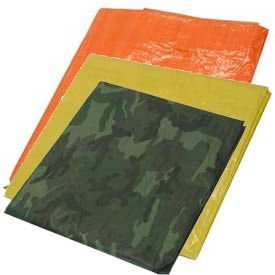 Light Duty 3.3 oz. Tarps
Light Duty 3.3 oz. Tarps Provide Content, Tool, and Equipment Protection For Construction Sites, Maintenance Areas, Work Zones, and more.

These tarps are water and mildew proof as well as tear and acid resistant making these units ideal for various heavy duty working environments. The high-density polyethylene construction is fabric woven, laminated, and hemmed with poly twine for added strength and durability. The lightweight design allows convenient user handling and transport. All seams and hems are heat sealed. Includes grommets approximately every 24" or 36" with a reinforced corner grommet. UV treated. Colors are camouflage/green, orange, or yellow. Dimensions vary per model.