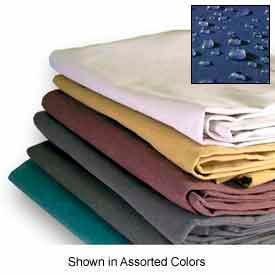 Heavy Duty 10 oz. Water Resistant Canvas Tarps
Heavy Duty 10 oz. Water Resistant Canvas Tarps Protect and Conceal Equipment While Eliminating Condensation.

These water resistant tarps are both strong and breathable for lasting reliability in harsh weather conditions. The double-stitched seams and hems are designed to increase tarp strength. Includes brass tie-down grommets spaced approximately 24" apart for added stability. Note: Wax and dye in canvas tarps may rub off and stain certain exteriors. These units are not for use as car, truck, trailer, or boat covers. They are also not recommended for indoor use or as space dividers, sidewalls, roofs for tents, canopies, or building structures. For patio roof, patio sidewall, canopy replacement tarps, or canopy replacement top and sidewalls, please consider high tear strength vinyl tarps. Colors are brown, green, olive drab, and tan. Dimensions vary per model.