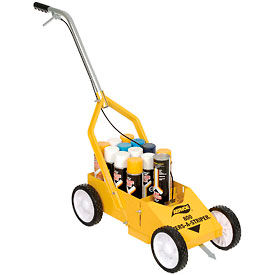 Parking Lot And Warehouse Floor Line Striper And Premium Striping Paint
Parking Lot and Warehouse Floor Line Striper and Premium Striping Paint Provides a Maintenance Free Solution For Heavy Traffic Applications.

Striping paint is a lightweight aerosol line striper designed for long lasting durability. Fast drying paint provides accuracy eliminates messy clean ups. Aerosol spray can drops into place and lines up the pointer for easy squeeze handle application. Stripe adjusts from 2-1/2" to 4"W up to 140 linear feet and dries quickly with one coat. Nose mounted pointer aids in tracking. When can is empty, replace from the attached two can carrier. Available styles are Economical Paint, Premium Quality Paint and Resurfacing Paint. Available colors are White, Yellow, Blue, Black and Concrete Gray. Non-clogging. Sold in cases of 12.