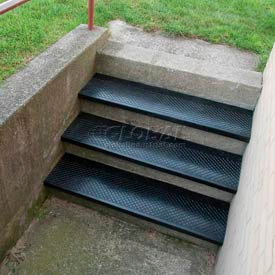 Outdoor Recycled Rubber Stair Treads
Outdoor Recycled Rubber Stair Treads Offer A Slip Resistant Surface For Exterior Stairways & Steps.

Made from 100% recycled tires. 5/16" thick stair treads offer 12-3/8" tread depth with 1-1/2" inside nose depth. Diamond pattern extends back 9-3/8" from nose to provide a slip resistant surface. Back 3" of tread is smooth with a square nose pattern so tread can be cut to fit tread depth. Black only. Installs easily using an Epoxy Adhesive (sold separately). Adhesive is sold in a 1 gallon unit that can cover up to 150 linear feet of treads.