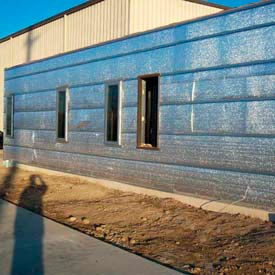 Reflective Insulation & Vapor Barrier
Reflective Insulation And Vapor Barriers Are Designed For Residential, Post-Frame, Light Gauge Steel And Commercial Insulation Applications.
Reflective Insulation and Vapor Barriers have a core made of 1/8" or 1/4" thick solid layer of flexible foam designed especially for NOFP that provides excellent insulation characteristics in a moisture proof design and long lasting durability. Materials feature high reflective foil film laminated to both sides.
Reflective Insulation is engineered to increase energy efficiency.
Non-toxic lightweight rolls are easy to install and come with a 1-inch double stick tape edge for an overlap seam. 94% reflective foil film is bird and insect resistant while increasing system thermal performance. Can be used in retrofit or new construction. Insulation nets also available to secure installation without the use of metal bars. Available facing colors are
White/Reflective, Reflective/Reflective and Reflective/Perforated.
Coverage is
500 and 1000 sq.ft.
Click for Additional Product Information