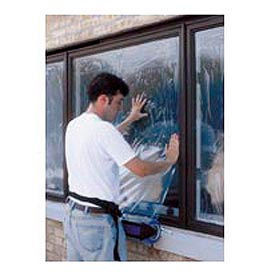 Protective Window Film
Polyethylene Window Protective Film Prevents Damage to Windows, Window Frames, Countertops and More.

The water-based adhesive backing of this window film is easy to apply. Safety window film is used protection from sprays, mortar and muriatic acid. This window glass film safely sticks to glass, painted surfaces, varnished surfaces, shellacked surfaces and more. Allows light in, making it easier to work in the room while protecting your windows. Removes in seconds for easy cleanup.