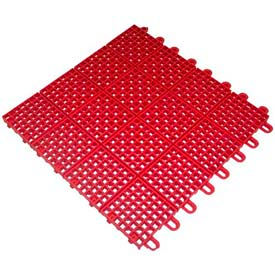 Mateflex II Outdoor Tennis Tiles
Mateflex II Outdoor Tennis Tiles Combine The Resiliency Of A Soft Court With The Dependability And Low Maintenance Of A Hard Court.

Mateflex II Outdoor Tennis Tiles have a high impact polypropylene construction for long lasting durability and strength. The cushioned surface provides added comfort during use and the design ensures excellent drying time after rainfall. Requires minimal maintenance, but also provides easy access to the base for repairs, if necessary. Tiles are 12 in. long by 12 in. wide with a thickness of 5/8 in. and give off low glare for comfortable play during any time of day. Easy court portability allows for confident placement and removal. Available in Black, Bright Green, Bright Red, Chocolate, Desert Sand, Graphite, Ice Blue, Navy Blue, Orange, Performance Blue, Royal Blue, Silver Metallic, Sport Green, Stone Gray, Terra Cotta Red and Yellow. 10 Year Limited Warranty.