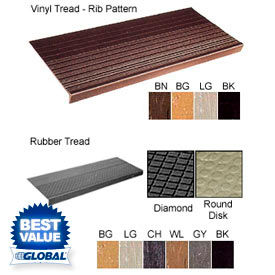 Stair Treads & Floor Tiles
Industrial Duty Stair Treads Provide Traction and Protect Stairs in Heavy Traffic Areas.

Vinyl Ribbed Stair Treads measure 12 D x 1-1/4 nose x 3/16 thick and are available in Brown, Black, Beige and Light Gray. The cost effective vinyl stair tread covers are designed for use in apartments, renewal building. Low cost, easy installation and cleaning. Extra thick at front.

Rubber Stair Treads measure 12-1/2"D x 1/2" nose x 1/4" thick and are available in Beige, Gray, Charcoal, Walnut, Slate and Black. Choose between Round Disc pattern rubber stair tread, raised 0.025 and easy to keep clean. The economical, attractive long wearing resilient rubber stair tread with added weight at the front edge is excellent for stairways or Diamond pattern rubber stair tread , with adjustable nose angle of 60-90 degrees that fits pan filled, molded concrete or terrazzo steps. Used for heavy traffic in commercial, industrial or institutional building. Price each sold in package qty.

Riser Covers complete the job by specifying covered risers. The stair risers protect the front of stairs. Allows easier cleaning. Easy to trim and fit in height and length. Price each sold in package qty.

Rubber Floor Tiles are great for landings, entryways, hallways, lobbies, elevators, ramps, concession stands, around box offices, vending machines and more. Measures 24 W x 24 L. Available in Disc texture is 1/8" thick and Diamond texture is 7/32" thick. Use water based contact adhesive, neoprene contact adhesive or epoxy nose caulk for safe, lasting installation (sold separately). Price each sold in package qty.