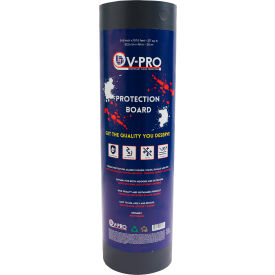 V-PRO Floor Protection
V-PRO® Protection Board (538 sq. feet), Temporary Floor Protection - 49-1/5"W x 131-1/5 Feet

The V-PRO Protection Board is an ultra-strong roll of temporary floor protection paper for painting, plastering, moving and (re)building, meant for and used by contractors, developers and do-it-yourselfers. The product is made from recycled fruit juice boxes and milk cartons combined with a gray PE coating on both sides making it combined waterproof, impact resistant, non-slip and dirt repellent.

V-PRO Protection Board is designed with quality and efficiency in mind, it lays down fast, is reusable and easy to remove. The floor protector covers your floor and is safe to use without shifting the covering and damaging the floor.

With a new solution to the misprints of these beverage containers, V-PRO Protection Board is the number one durable choice for your floor protection.