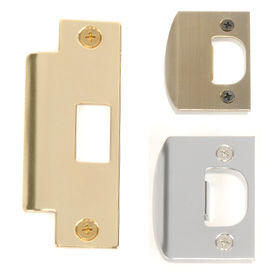 S. Parker Hardware Contractor Quality® Strikes
S. Parker Hardware Contractor Quality® Door Strikes Protect Doorways from Marring.

Door Strikes are made of various materials for long lasting durability. Door strikes receive latches or deadbolts when the door is closed. Each door strike is shaped to suite a specific type of bolt or latch. Available types are Adjustable Strikes, ANSI Strikes, ANSI Strikes Deadbolt Type for Hollow Metal Frame, ANSI Strikes Dimpled Type for use with Roller Latch, ANSI Strikes for Deadbolt, Armor Strikes, Blank ANSI Strikes and more. Available finishes are Brass Plated, Nickel Plated, Chrome Plated, Dura Coated, Oil Rubbed Bronze, Polished Brass, Silver Coated, Stainless Steel, Zinc Plated, White Coated White Plated, Antique Brass and Satin Nickel.