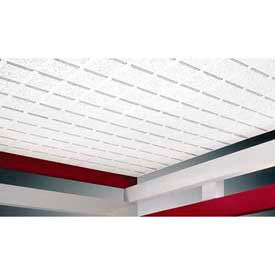 Mineral Ceiling Tiles & Grid Framing
Ceiling Tile and Grid Suspension Framing Are Suitable For Ceilings In Offices, Schools, Hospitals, and more.

Mineral ceiling tiles and grid framing accommodate facilities in need of consistent sanitation upkeep. Some tiles meet USDA/FSIS sanitary standards for food processing, food service and hospital use and are approved by Canadian Food Inspection Agency (CFIA) for use in food establishments. Some ceiling tile and grid suspension framings may be cleaned with common disinfecting chemicals. Ceiling tile patterns include Vinyl-faced embossed, Random fissured, Directional fissured, Fine Random fissured and Vinyl-faced embossed/perforated. Low VOC compliant. Edges are Square or Reveal. Recycled content varies per model. Ceiling Tiles, Main Runners and Wall Angles available. Lengths are 24, 48 and 144 inches. Widths are 24 inches. Ceiling tiles are white. Additional specifications vary per model.