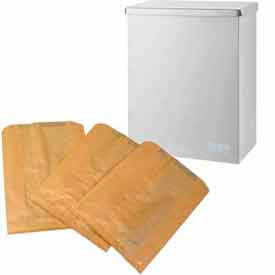 See all 19 items in product family
Sanitary Receptacles And Liners Provide Proper Disposal Of Feminine Hygiene Products In Public Restrooms.

Sanitary Receptacles and Liners are made of metal, plastic, stainless steel or steel for long lasting durability. Receptacle lids swing open, pull down or use foot pedals for easy hands free disposal. Seals tightly to lock in odor. Single and double sided, and automatic styles available in various mounting options. Wax paper, and plastic sanitary liners sold separately. Dimensions and capacities vary per style.


Click for more