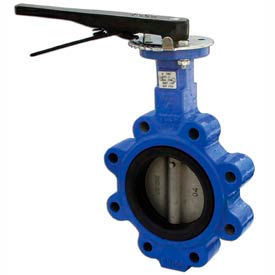 See all 42 items in product family
BI-TORQ® Lug & Wafer Style Manual Butterfly Valves Perform Well With Diverse Media.

BI-TORQ® Lug & Wafer Style Manual Butterfly Valves are available with BUNA, EPDM, or Viton seals.Models featuring Viton® offer resistance to aggressive fuels and chemicals, as well as mineral acids, salt solutions, chlorinated hydrocarbons, and petroleum oils. Viton® seals should not be used in steam or hot water service. BUNA seals are excellent at resisting oil, water, solvents, and hydraulic fluids. EPDM seals also have good abrasion and tear resistance, as well as excellent chemical resistance to a variety of acid and weak alkaline-based media.

Models feature a standard 10-Position Locking Handle. Each valve has a cast steel body that is epoxy coated for a durable and attractive finish. Sizes range from 2" to 12". Lug Style Butterfly Valves feature threaded inserts at both ends of the valve body, allowing either side of the piping system to be disconnected without disturbing the other. Standard valve is designed to ANSI standards. Additional sizes through 24" are available.


Click for more