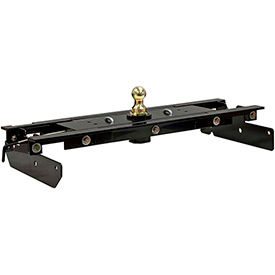 See all 11 items in product family
Buyers Flip Ball Gooseneck Hitches Allow Pickup Trucks and Flatbeds to Tow up to 15 tons.

Buyers Flip Ball Gooseneck Hitches act as a "fifth wheel" assembly that transfers part of the load to the front axle. The hitch can be used for towing horse trailers, utility trailers, RVs, toy trailers, lawn care trailers, car haulers, and more. The 2-5/16 in. ball assembly mounts under the truck floor and requires only a 4 in. hole in the bed. Powder-coated finish is durable and corrosion-resistant. Available styles are Gooseneck Flip Ball Hitch and Fabricators Flatbed Kit. MVI is 75,00 lbs. MGTW is 30,000. Dimensions vary per model.


Click for more