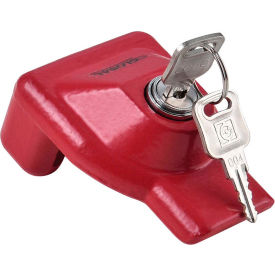 See all 4 items in product family
Air Brake Glad Hand Locks Help Prevent Unscheduled Departures from your Dock Bay.

Glad hand locks are the perfect device to "dead-line" a trailer, offering a simple way to prevent a trailer from being moved while being loaded or unloaded. This semi-trailer lockout device acts as a harness around the air intake valve of the emergency brake system. The trailer is immobilized because the gladhand lock must be removed before the air line can be connected, thereby releasing the trailer emergency brake. Lock can be installed and removed in seconds. Cylinder lock prevents removal without the key and dock supervisors can assign keys to loads to certify that the proper driver is taking the correct load.

Choose Molded Plastic Glad Hand Locks for high-volume docks or Cast Aluminum Glad Locks for extra safety protection.

Air brake locks can be ordered Keyed Alike for master key applications or Keyed Different for individual trailer security.

Note: Maximum Key Differential is Limited to 60 Individual Keys on Keyed Different Models.
Click for more